Welcome to Mils Cottages & Motel – Thousand Islands, Clayton NY
Mils Cottages and Motel has been a family vacation destination since 1948. Mils offers a comfortable stay and has everything you need to make your summer vacation or fishing trip an enjoyable one!
We have a six unit poolside motel and fourteen 1, 2 or 3 bedroom waterfront housekeeping cottages. For comfort and privacy, all are equipped with modern furnishings, individually controlled thermostats, and a view of the majestic St. Lawrence River. Most of our cottages have either a screened-in porch or an open-air deck from which you can watch the action on the river, enjoy the sun and breeze, and even have dinner under the stars, if you choose.
And for your sporting pleasure, we have boat and motor rentals with daily and weekly dockage. We also have a swimming pool, basketball court, horseshoes, and ping pong. And, of course, there is always plenty to do on the river; the most popular activities include water skiing, fishing, swimming, and boating.
Located only 2 miles from downtown Clayton, we're only minutes from the Antique Boat Museum, Thousand Islands Museum, Thousand Islands Arts Center, Clayton Opera House, Clayton Island Tours, Cerow Recreation Park Arena, Coyote Moon Vineyards, Northern Flow Vineyards, St. Lawrence Spirits Distillery, a public boat launch, several golf courses, and a variety of restaurants and boutique shops. Across the street you'll find a miniature golf course and bumper boats as well as the Clayton Distillery. In the summer, there are many family friendly events taking place.
We're also approximately 5 miles from the Thousand Islands Bridge which takes you to Canada (passports required) and the Thousand Islands Winery. You can also travel 9 miles to Alexandria Bay where you'll find Boldt Castle, Uncle Sam Boat Tours and more.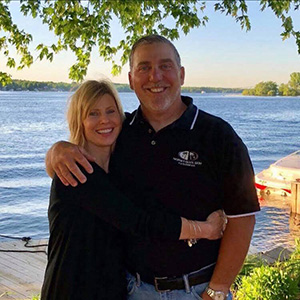 We're open from May 1st through the end of October, and we're always happy to make your summer holiday a success.
Your Hosts,
Alan & Lesley Bellavia